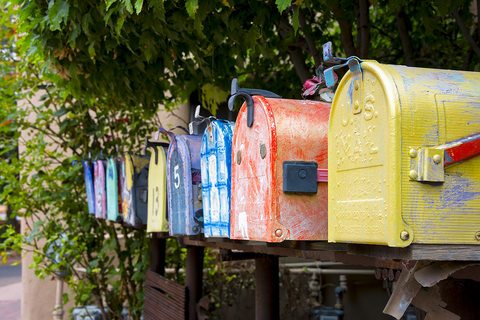 With the holidays quickly approaching I thought I would share this... A couple of months ago a long time customer/friend placed an order for two bottles of her favorite perfume. She works long hours and often travels so she was concerned about her beloved perfume being stolen from her mailbox. I offered to deliver her precious perfume the next day.  While we chatted in her driveway I told her that instead of receiving mail at the house, I have my mail forwarded to the local UPS Store.

When I first started Beauty Cafe twenty plus years ago, I used my home address for everything. I didn't give it a second thought until.. a man showed up on Christmas Eve trying to make a purchase for his wife. When I declined his request to come inside to "shop" I found myself in a situation where I almost had to call the Police to get him to leave. The next day I went up to the local Post Office and put in a change of address to a PO Box. 
Recently there have been mail thefts in our quiet little town of Monrovia. These thieves are so brazen that they couldn't care less that most of us have Ring security systems. They often follow the Amazon or UPS delivery trucks. Walk right up to the front porch and scoop up the packages to a getaway car.
Save yourself the hassle and get a personal mailbox. Either from a local mom and pop business that offers rent-a-box or from the UPS Store. Just a reminder, this is different from getting a PO Box at the Post Office. A rent-a-box place will receive mail from all couriers (DHL, UPS, USPS, FedEx, etc). They will sign for your packages so you don't have to wait all day at home and still miss a delivery because you didn't "hear" the delivery guy ring your door bell (or so they say they do).
While I've got your attention, let's talk about Signature Confirmation. It's become a bit of a thing, especially during the holiday season and I want to explain it from a retailers point of view in hopes that you (or some of you) may have a bit more understanding of why it "appears" that we inconvenience you. Mail Theft and Fraud are big business. While you may be inconvenienced by having to call the retailer and your credit card company - the retailer loses the inventory, the money, the shipping and if they do end up reshipping the second inventory cost. If you're purchasing the last of an item - it may or may not be replaceable in a timely manner either.
For tracking purposes, Delivery Confirmation is good - the USPS now offers GPS coordinates of where a package has been left so they can tell you if the package actually made it to your mail box or the neighbors BUT Signature Confirmation is best because someone has to actually Sign and Receive the package. I use Delivery Confirmation on all orders (including First Class) and Signature Confirmation when shipping to apartments, office buildings, freight forwarders, large business with mailrooms, or when a shipping address is different than the billing address. This ensures that someone MUST sign for it or it will be returned to me.
But back to the rent-a-box - you can pick up your mail 24/7 with a lockout key and you pick up packages from the front desk during normal business hours. You will never have to worry about missing a delivery again or get mad because a vendor has requested that you sign for a package. The convenience, security and ease of use is so worth the monthly fee. 
Love, laughter and friendship,
Lisa