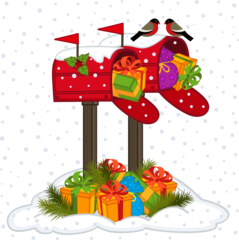 TIS THE SEASON… SHOPPING AND SHIPPING
By HippieChickDesign Admin
Halloween is just behind us, the pumpkin seeds are still warm and already the stores are scrambling to merchandise and stock for the holidays.
Some have already finished their holiday shopping. Others are planning for Black Friday and then of course there are those (like me) who wait until the last minute. Whatever kind of holiday shopper you are, chances are you'll be doing a good portion of your shopping online this year.
This year, Beauty Cafe is celebrating 19 years of holiday shopping and shipping and I thought I would share some tips with you to ensure that your shopping experience is secure and your packages arrive safe.
Here are some recommendations:
Shop at online businesses that you can trust. Check out the website before you pull your credit card out of your wallet. Read their About Me and Contact Us pages. Check out their FAQs or Terms and Conditions.
Here are some basic questions to ask before you hit the CheckOut Button:
Do they seem legit?
Check out the site, look for reviews and make sure that to the best of your knowledge that they seem legit and have some history to them. Do they have a US phone number and address? Do they have an address on their website? This one always concerns me when I can't find easy access to the location of a company I want to do business with. If it's not easy to find check out their Returns page (because obviously if you have a return you need to ship somewhere).
Do they use a Secure Server to process your payment?
Look for https: instead of http: whenever you shop online.
What is the Return/Refund Policy?
Most businesses have anything from a 14 to 30 day return policy. Make sure you're covered in case there are after Christmas returns. Amazon extends their return policy well into January. Who pays for returns?

Is your item in stock?
If not, will your order make it before the holiday shipping deadline.
Do they Drop Ship? If so, are they US-based or do they use an international supplier? How can you tell? Well most US-based companies will ship orders within 24 to 48 hours of receipt of your payment and your package should arrive in just a few days, at the most. You will also receive a US-based tracking number (USPS, FedEx, or UPS). If a company claims that it will take anywhere from 14 days to one month to receive your order or gives an extended order processing time (two weeks), unless it's a custom hand-made item, you're looking at a company that has set up a website in the US but more than likely uses a Chinese supplier and your order is actually coming from China. In other words, they don't stock the product. If you have a return, are you required to ship back to China or is there a US address and more importantly, at who's expense? You may be fine doing this and you'll save money but when you give your information to a drop shipper, keep in mind your name and address is shared with the company that is actually shipping your order. Of course they don't get your payment information but personally, I'm not comfortable giving my information away unless I'm in control of who's receiving it. Not all companies are honest and will say they are drop shippers, so do your due diligence.
Buy from reputable and authorized retailers. Many items come with warranties but generally speaking they are only valid if you purchase from an Authorized Retailer or direct from the Manufacturer. Retail Arbitrage (RA) has become big business in recent years. What is Retail Arbitrage? Basically it's when someone buys something at a retail store at a discount and turns around and sells it for a profit online whether it be on eBay, Amazon, or their own website. I'm a huge fan of eBay and Amazon. I sell on both platforms and I shop on both sites. However if you are purchasing an item that you may need a warranty on it, or have health and safety concerns, always inquire with the Manufacturer to verify that you will be covered if you purchase from a Non-Authorized Retailer. Technically, RA items are technically "Like New" and not "New in Box" even if it's still wrapped in plastic. They may not see it this way but you are not the original consumer of the item when you buy RA and you will not be in possession of the original receipt that holds the manufacturers warranty. Another thing to consider is you have no idea how long the item has been in their possession or where they got it from. Buyer beware.
For example, I am the US Importer/Distributor for Keromask in the US. The brand integrity of Keromask is very important to me. Recently I found someone selling Keromask on Amazon. I was not familiar with this company so I placed an order for one of the tubes they were selling. When my purchase arrived I noticed two things that deeply concerned me: one that the tube was the wrong color and they had cut the color name off the tube very precisely to mislead the customer (thereby tampering with the goods) but the most important thing I could tell immediately when I removed the top that the tube had been previously used. I immediately notified Amazon and this companies listings were removed. There is a safety issue regarding used cosmetics.
Counterfeit/Grey Market Goods: This has been going on since the beginning of designer labels. You can purchase just about everything these days online, including fake goods. Again, do your due diligence and check out the company. Most major labels have very strict guidelines and restrictions on where their products can be purchased online and that is called Brand Restriction. Both Amazon and eBay are really working hard to crackdown on counterfeit but sometimes companies do slip through the cracks so check each 3rd party seller out on Amazon, including those on Amazon Prime. I once had a man try to return a bottle of perfume to me claiming he received from me. He had been a customer once so I accepted his return only to find out entire bottle was written in Arabic. Oy! Seller beware!! :)
Mail Theft: This is huge for me. It seems like every night on the local news they show someone having their mail stolen. Holiday season is feasting time for mail thieves. There are things you can do to help slow down, if not prevent it from happening.
1. If you work outside the home, have your packages sent to your office.
2. Request Signature Confirmation from the Retailer. Yes, this can be a PIA to have to either be home for the package or go to your local Post Office for a pick up. But it does work. Beauty Cafe requires Signature Confirmation on all orders over $100.00, orders being shipped to a different name/address other than billing.
3. Get a Mail Box offsite. This is my personal favorite and number one suggestion and I've done it for almost 15 years now. It all started in the early days of Beauty Cafe, when a man came to my house to purchase a bottle of perfume. After the shock wore off, I was actually scared (being a single mom and all) that my address was public. So I got a PO Box the very next day and I've had one ever since. I love the convenience factor and the security of the privacy. They receive my mail from USPS, UPS and FedEx and sign for all my packages. They email or call when something comes in and I go pick it up. Think about how many times you've waited on a package only to run out for five minutes only to find a missed delivery receipt on your door upon your return. Private MailBoxes are open M-Saturday for package pickup and with my private key I can go in 24/7 to pick up mail. I can promise you this is the best $30 dollars you will spend a month. Most cities have small ma and pa shops that offer private mail box services or you can search for the UPS Store. USPS offers private mail boxes however they cannot accept FedEx or UPS.
Update Your Address: There have been numerous times that I have been notified by customers (after the fact) that the address I have shipped their order to is old. Remember Amazon (as well as others) allow you to have numerous addresses on file. Make sure that you delete any old or non-valid addresses. Keep your address information (including your billing address) up to date.
Get a security system for your house (complete with camera) 
and keep it turned on. Post security warning notices on your walkway and in windows. You may just scare off a potential thief or if they are that bold and do steal your mail at least you'll get them on camera. We have the
Ring
and I love it and for 3.00 a month we get the cloud server that keeps all our videos and shares with our neighbors. Make sure your camera is working because you just never know when you may provide security feed for a crime outside your front door. Recently my daughters parked car was the victim of a hit and run. We left notices at all the houses near the accident and thankfully someone got the whole thing on their security camera. We are so thankful and hope that the footage will be able to catch the criminal.
Start a Neighborhood Watch and join Nextdoor.com for your local neighborhood
. It's your community, be a part of it! Our local Nextdoor is very active and local police enforcement have a strong presence on there. Currently we are having a mail theft issue in our hood and a couple of scammers preying on the kindness of our community. Nextdoor is fabulous for getting the word out (plus you can also sell or give away items) locally.
Together let's all make this a wonderful safe and fun holiday season!!
P.S. If you have anything to add to my list, please by all means feel free to add to it in the comment section and we can add to this document!!
xoxo,
Lisa