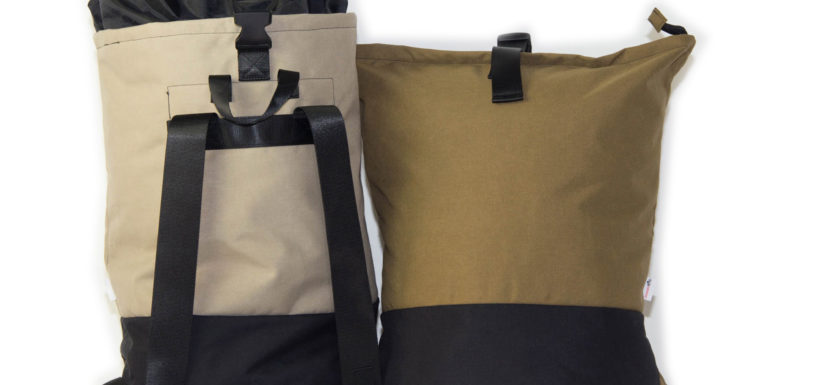 The Stramper Bag – All-in-One Laundry Backpack and Hamper
Hippie Chick Design was recently approached by Aakash Patel, a Senior at Indiana University to assist with the branding and launch of his first (of many) inventions, the Stramper Bag, a fabulous all-in-one laundry backpack and hamper.  How could I resist the offer to collaborate with someone who thinks out of the box? I have been so thrilled to work with Aakash on this project. Aakash had a game plan already set in place and the bags were set to arrive from the manufacturer shortly in two separate shipments within the month. One to be shipped to him and the other to Amazon Fulfillment centers.Read More →
The post The Stramper Bag – All-in-One Laundry Backpack and Hamper appeared first on Hippie Chick Design Studio.
By HippieChickDesign Admin
Hippie Chick Design was recently approached by Aakash Patel, a Senior at Indiana University to assist with the branding and launch of his first (of many) inventions, the Stramper Bag, a fabulous all-in-one laundry backpack and hamper. 
How could I resist the offer to collaborate with someone who thinks out of the box? I have been so thrilled to work with Aakash on this project. Aakash had a game plan already set in place and the bags were set to arrive from the manufacturer shortly in two separate shipments within the month. One to be shipped to him and the other to Amazon Fulfillment centers. He had done his research and knew that he wanted to use the Shopify platform for his business website.
Aakash chose the Debut Theme, one of the Free Themes developed by the Shopify team for his venture. Utilizing his logo and packaging I had been provided with, I branded the site to compliment the look and feel of the bags. We didn't want anything fluffy and definitely wanted to appeal to the college market.  In addition to designing the website, Hippie Chick Design provided product and lifestyle photography for the first set of Stramper Bags to come in. We also created artwork for Facebook and Instagram ads and posts.
The Stramper Bag is durable, water-resistant and washable and has a multitude of purposes from a backpack/laundry hamper to a beach bag and carry on suitcase. Perfect for anyone on the go. There are two models to select from. The Premium Model includes a outside pocket and laptop compartment so you can take your laptop or tablet with you to the laundry mat. You can overstuff the bag using the nylon extension and pull it tight with a drawstring or if you can fit everything inside the bag just zip it shut and close it with the nylon web closure.
When I was shooting photos I stuffed my laundry in it to fill up both bags just to get an idea of how much they could handle. I was pleasantly surprised, one bag held two full loads of laundry and the other bag held three large throw blankets. Alannah, Julian and I had a photo shoot a couple of weeks ago for a couple of her collabs and I decided to bring along the bags. We stuffed all our beach supplies including towels and toys and still had plenty of room to spare. Alannah especially loved the backpack function since she was still able to hold Julian's hand.
The Stramper Bag is truly a fabulous invention  and I am so excited to have been part of Aakash's journey and look forward to seeing what else he comes up with!
Check out the Stramper Bag today. Get one for your college bound kids or yourself!
The post The Stramper Bag – All-in-One Laundry Backpack and Hamper appeared first on Hippie Chick Design Studio.