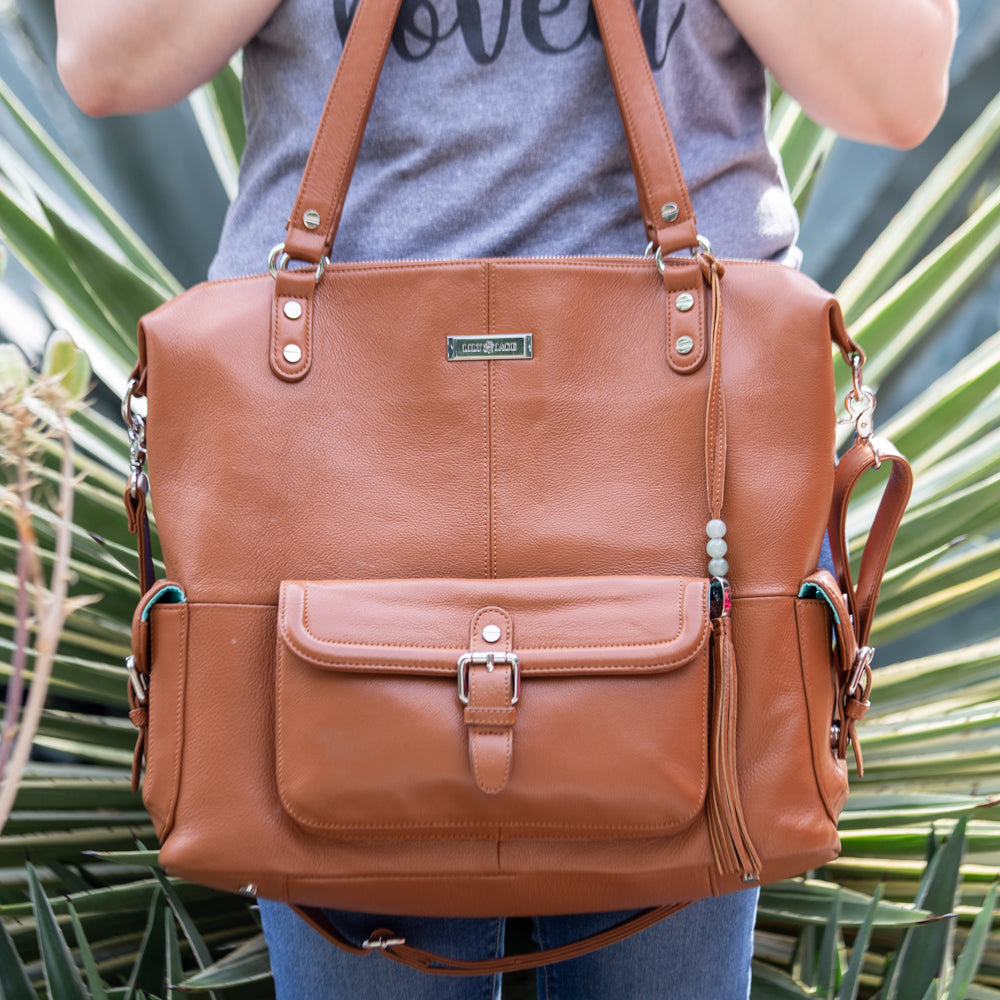 Lily Jade Meggan Diaper Bag!
I have a new love in my life..!!! I am so excited that I have a new Lily Jade bag to add to my collection! As you know, Lily Jade has been the only brand of diaper bags that I have ever owned. They are so versatile that I even recently brought it to a work training and was able to keep my Mac Book air well protected. One of the reasons I love Lily Jade is because they pay such attention to detail.
All of their diaper bags come with their 12 pocket, machine washable organizer. I love it because it helps me stay organized on the weekends when I am out and a bout with my son. I can store snacks, his sunglasses, bug bite cream (guys-- the mosquitos are attacking us like crazy this year!!) and so much more! But then during the week I just remove the organizer so I can fit things for work like my larger wallet, snacks for me, water bottle, and even my lunch. 
I never get tired of this bag because of how it can convert to wearing it as a backpack to messenger style! It comes with 1 exterior large pocket with magnetic closure on the front that you can easily slip your car keys or a wallet into it. It also has 2 medium sized pockets (1 on each side) with magnetic closures on the side. Here I like to store things like mints or my gum. You don't have to worry about people seeing in your bag or things falling out because of the zippered pocket. 
For those of you with babes still in diapers? They even include a changing pad that can easily be thrown in the wash! My favorite detail that all bags have is the Lily Jade tassel! It has natural stone beads and honestly it is such a beautiful detail. I think if you know any soon to be momma's that this is the gift that you choose to get them. Also with Mother's day right around the corner you can give your husband the hint he may be looking for!
If I haven't convinced you enough why Lily Jade is the great diaper bag to own, maybe telling you a little bit more about what this company does to go over and beyond! Whenever you purchase a Lily Jade bag, the money spent goes to help families going through adoption! Lily Jade is able to bless these families by doing giveaways, charitable donations, and community support.
I remember when I first started following Lily Jade on instagram, this is when I realized how much of a "giving" company they are. They are always hosting giveaways, always have amazing sales! They even now allow you to finance a bag through their website. If you don't believe me, be sure to read all the reviews on their website. Want to know the comment thing most say? "I wish I had bought it sooner!" 
Lily Jade Bag: Meggan Camel & Silver